GLITCHES IN THE FBI
Visit Casa Urraca to purchase a copy. (click here)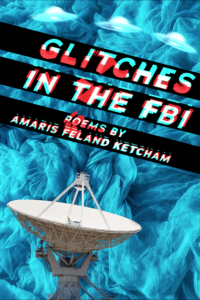 The truth is out there… and it's in this book. Amaris Feland Ketcham uses the technique of found poetry—limiting her word bank to the transcripts of episodes of The X-Files—to craft entirely new and vivid poetry. Indebted to the show's writers for using such interesting and precise words, this collection retains a sense of mystery and inquiry, mirroring and adapting big ideas and issues, and a smattering of references and slang that make them read like a kind of 1990s Homeric. Proudly printed on exquisite heavyweight 100# paper and perfect bound in New Mexico.
From the Introduction:
"Rainy nights, with a flashlight cutting through the forest; long shadows down narrow hallways flanked in darkness; improbably, even the basements of the FBI building seemed foggy—these were the scenes that I loved when watching The X-Files aired in the 1990s. I spent many Friday nights immersed in its eerie atmosphere and fantastical stories. It was only recently while re-watching some episodes that I came to appreciate the dialogue, and out of a playful impulse, started to experiment with lines from the script."
"Amaris Ketcham is no stranger to experimental writing. Her latest work, Glitches in the FBI, is an ingenious collection of poems utilizing re-purposed script dialogue from the iconic and surreal television program, The X-Files. The select script fragments, carefully re-assembled in free verse form creates a "third stream," a new form based on the originality of idea and organization." –Kevin Zepper, author of Moonman
"Amaris Ketcham, juggling bright images triggered by dialogue from The X-Files, turns her poet-play on such diversity as aliens, foxes, Lake Okoboji. Bizarre or warmly ordinary, her words take sudden rights, lefts, and lift-offs. "You're just getting motion sickness / from enlightenment," she says, as she shows us that portals to other worlds—or this one—are anywhere they open." –Betsy James, author of Roadsouls
A POETIC INVENTORY OF THE SANDIA MOUNTAINS
Published on Earth Day (April 22) 2019, this book of poems is out in the world! To schedule a reading or purchase a copy, you can contact me at ketchama [at] unm [dot] edu
A lively exploration of history, memory, and identity within manmade and natural landscapes, A Poetic Inventory of the Sandia Mountains illuminates the Southwestern wilderness through lyric research. Playing with the concept of a "scientific inventory" of a location's biodiversity, this chapbook catalogues the flora and fauna of Albuquerque, New Mexico, its urban wilds and surrounding mountains, river, and mesa. Against a graffitied, adobe backdrop, the desert ecosystem reveals itself: hummingbirds fly drunkenly after slurping fermented nectar; cottontails slip through the space-time continuum; and chollas guard sleeping beauties.
Amaris Ketcham's "A Poetic Inventory of the Sandia Mountains" does exactly what I want a book of poems to do—surprise me, enthrall me, take me away from the expected, the work-shopped, the writing school monotone where every poem is "professional" and virtually interchangeable. Her poems have what William James says makes "life significant." As he said in a word, "zest." In this poetic inventory, the human and the "natural" are no longer forced into faux distinctions. Ketcham's poems, like wild landscapes and cities, are to be experienced as one would blaze a trail, keeping track of scat and paw prints and herbs and hobos, noting each leaving of identity and imagination. Their richness and amazements make just one reading impossible. —V. B. Price, author of Broken and Reset: Selected Poems 1966–2006
Grab this chapbook and follow Amaris Ketcham into the field. Don't worry about getting these pages dirty. Here we find bears, tarantulas, rattlesnakes, aspen and pine and juniper, amid the wilds of Goodwill, drainage tunnels, strip malls on bulldozed Indian graveyards, and a potholed Route 66. Plastic bags bloom off sagebrush as drunk hummingbirds swerve. As Ketcham reimagines the genre of the scientific inventory in poetic terms, she locates wilderness wherever she is and takes us along on her trek. The trail doesn't lead straight through the Sandia Mountains, rather retraces time through place. "When am I?" she writes, and "What does the next switchback promise?" Read this promising writer to inhabit this landscape that bewilders, to be wilder, leading us astray as a hawk's "home untethering." —Gretchen Henderson, author of Ugliness: A Cultural History and The House Enters the Street
Amaris Feland Ketcham leads us through Southwestern wildernesses, suburban sprawls and urban ruins with the humor, wonder, local knowledge, and companionability of a talented guide. These brilliant poems remind us ours is one world, shared with the critters and trees—yes—but also with our exes, teen rebels, Chevy trucks and graffiti. As powerfully as any young poet I know, Ketcham shows us what it means to be at home in this confusion. —Jonathan Johnson, author of The Desk on the Sea