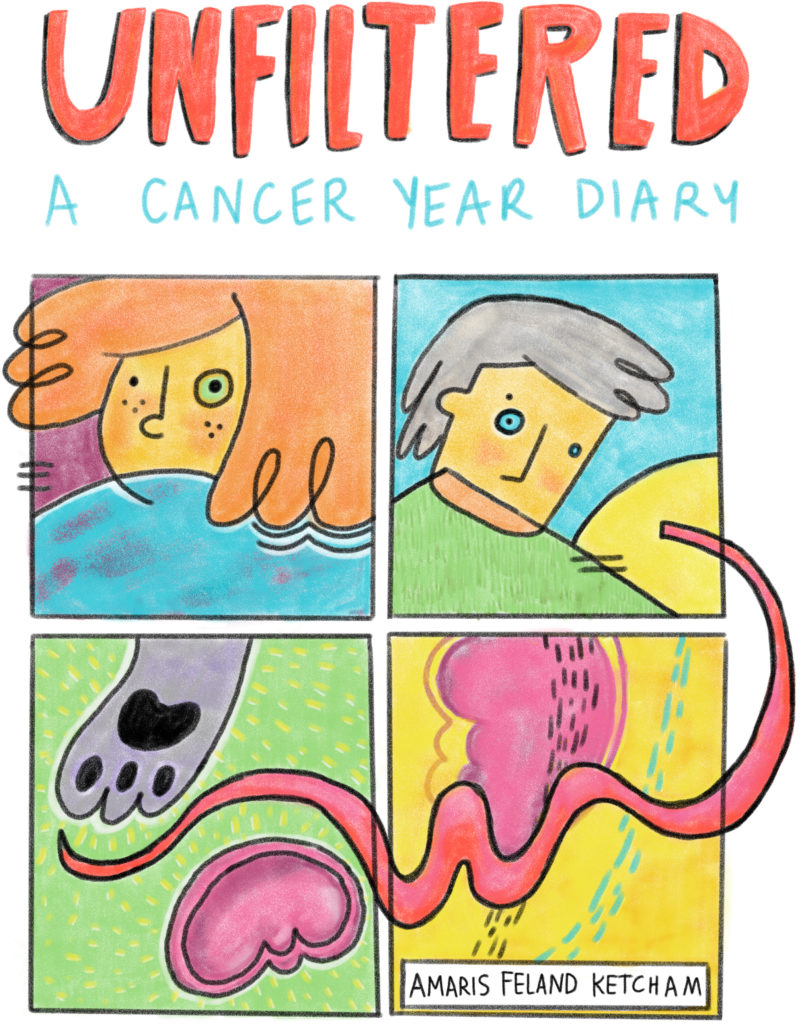 Unfiltered: A Cancer Year Diary is a collection of diary comics spanning a year that my spouse was diagnosed with kidney cancer, treated, and entered remission. The title is a play off of the book being a largely unedited diary ("unfiltered"), with the only real edits being cutting the number of entries down from 365 and and the kidney's role in filtering your blood.
You can purchase copies directly from Casa Urraca Press or your favorite bookseller. If ordered in advance, this book will ship on or before the publication date of April 25, 2023.
Upcoming events for Unfiltered: A Cancer Year Diary

Come celebrate the release of the book at Lizard Tail Brewing in Nob Hill (3417 Central Ave. NE Suite C, Albuquerque, NM, United States, New Mexico) on April 29, 2023 from 6-8 pm!
Join me for a fun afternoon reading at Books on the Bosque (6261 Riverside Plaza Ln, Albuquerque, NM 87120) on May 6 at 3 pm. In addition to talking about Unfiltered, I will be leading a fun doodling activity, where folks of all abilities and ages can make their very own diary comic!
From the back cover:
Amaris Ketcham starts her daily diary comic without knowing anything about the cancer diagnosis awaiting her partner. Yet even in the thick of his tests and surgeries, she chronicles her cats and her meals, they take hikes, and the world-at-large somehow continues on. This graphic memoir shares the ups and downs of their cancer year together with honesty, humor, and always a sense of resilience.
Praise for Unfiltered: A Cancer Year Diary:
"This wonderful book flips your expectations about what a graphic memoir can be and do."
— Kelcey Ervick, author of The Keeper: Soccer, Me, and the Law that Changed Women's Lives
"Funny, poetic, and wholly charming—this book has it all."
— Teresa Wong, author of Dear Scarlet: The Story of My Postpartum Depression
"This grounded journal of a year of uncertainty, life, death, and hope is a must-read."
— MK Czerwiec, RN, MA, "Comic Nurse" at graphicmedicine.org
"Unfiltered: A Cancer Year Diary will be given a special place on my bedside table … I shall reach for this book … and with a deep sigh of relief remember the possibility of new life ahead."
— Dr. Patricia Ann Repar, Professor and Director of Arts-in-Medicine Program, University of New Mexico
More comics:
You can find a recent comic, "Mile High, Mile Deep," in the 2022 climate edition of Ecotone magazine, featuring homemade copper verdigris ink.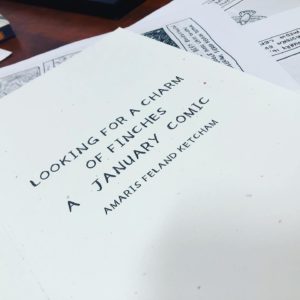 In January, 2022 I participated in fourteenfifteen gallery's Fun-A-Day show, which asked that artists create something every day for the month. I made diary comics and collected each day's entries into a zine, "Looking for a Charm of Finches: A January Comic."

In January 2023, I participated again, this time writing and drawing poetry comics each day. These haiku are compiled into an accordion book nearly fifteen feet long!
Autobiographix Newsletter
From diary comics to graphic memoir, autobiographix encompasses the full range of nonfiction comics. Along with Nora Hickey, I co-edit a biweekly newsletter about this genre of comics at autobiographix.substack.com. We post interviews with comics creators, reviews of graphic memoirs, research and discoveries about the history of autobio comics, musings about story and style, and share news about related events and opportunities. Sign up at the site to have it delivered directly to your inbox.
Writing about Comics
Comics Presentations
February 2023 "Daily Habit: Diary Comics,"  Southwest Popular/American Culture Association Conference, Albuquerque, NM.
May 2022 "Motherhood as Crisis: Women Comics Creators Confront Identities in Flux" Exploring the  In-Between: Comics in Flux Conference, University of Florida, Gainesville, FL. 
Feb. 2022 "Comics on the Road: Drawn Records of Women Traveling,"  Southwest Popular/American Culture Association Conference, Albuquerque, NM.
Feb. 2021     "Toward a Definition of Poetry Comics," Southwest Popular/American Culture Association Conference, virtual.
Feb. 2021     "Casting Narrative Aside: The Poetry Comics of Bianca Stone," Southwest Popular/ American Culture Association Conference, virtual.
Feb. 2020     "Get Inked: Comics as Cultural Critique," Association of Writers and Writing Programs, San Antonio, TX.