I am working on a longer comics project, a work of graphic medicine. In the meantime, I am making shorter comics and zines. You can find a recent comic, "Mile High, Mile Deep," in the 2022 climate edition of Ecotone magazine.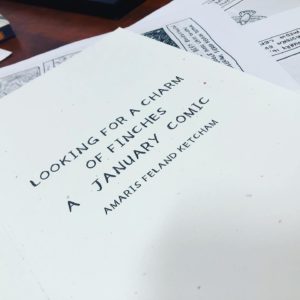 In January, 2022 I participated in fourteenfifteen gallery's Fun-A-Day show, which asked that artists create something every day for the month. I made diary comics and collected each day's entries into a zine, "Looking for a Charm of Finches: A January Comic."
Opening reception: Friday, February 18, 6-10pm.
Closing reception: Friday, March 18, 6-10 pm.
Appointments by request.
Autobiographix Newsletter
From diary comics to graphic memoir, autobiographix encompasses the full range of nonfiction comics. Along with Nora Hickey, I co-edit a biweekly newsletter about this genre of comics at autobiographix.substack.com. We post interviews with comics creators, reviews of graphic memoirs, research and discoveries about the history of autobio comics, musings about story and style, and share news about related events and opportunities. Sign up at the site to have it delivered directly to your inbox.
Writing about Comics
"Memory Re-Drawn: Julie Doucet's Time Zone J," The Rumpus.
"Is Your God Not Cool with That? A Review of RAVE by Jessica Campbell," Solrad.
"From Panel to Platform: Women Comics Creators on Instagram," Women in Media: A Reference Handbook. Edited by Amy Damico. Santa Barbara, CA: ABC-CLIO.
"Brooding, Obsessing, and Drawing: The Diary Comics of Keiler Roberts," Another Chicago Magazine.
"When Ideals Meet Reality: The Contradictions by Sophie Yanow," The Rumpus.
Comics Presentations
May 2022 "Motherhood as Crisis: Women Comics Creators Confront Identities in Flux" Exploring the  In-Between: Comics in Flux Conference, University of Florida, Gainesville, FL. 
Feb. 2022 "Comics on the Road: Drawn Records of Women Traveling,"  Southwest Popular/American Culture Association Conference, Albuquerque, NM.
Feb. 2021     "Toward a Definition of Poetry Comics," Southwest Popular/American Culture Association Conference, virtual.
Feb. 2021     "Casting Narrative Aside: The Poetry Comics of Bianca Stone," Southwest Popular/ 
American Culture Association Conference, virtual.
Feb. 2020     "Get Inked: Comics as Cultural Critique," Association of Writers and Writing Programs, San Antonio, TX.